The NC Mountains-to-Sea Trail is as diverse as North Carolina. Along the trail, you may see mountain vistas, rolling Piedmont farms, picture postcard colonial towns, weathered tobacco barns, old textile villages, country churches, rushing mountain streams, coastal swamps, hardwood and pine forests, lighthouses, sand dunes, miles of seashore, and friendly people. 680 miles of the route are on trail, and connecting back roads and an optional paddle route allow hikers to trek across the state. Onslow County is highlighted on this trail under Segment 15: Holly Shelter Game Land to Stella.
Segment 15: The Onslow Bight and Jacksonville
Provided by:  Kate Dixon and Jim Grode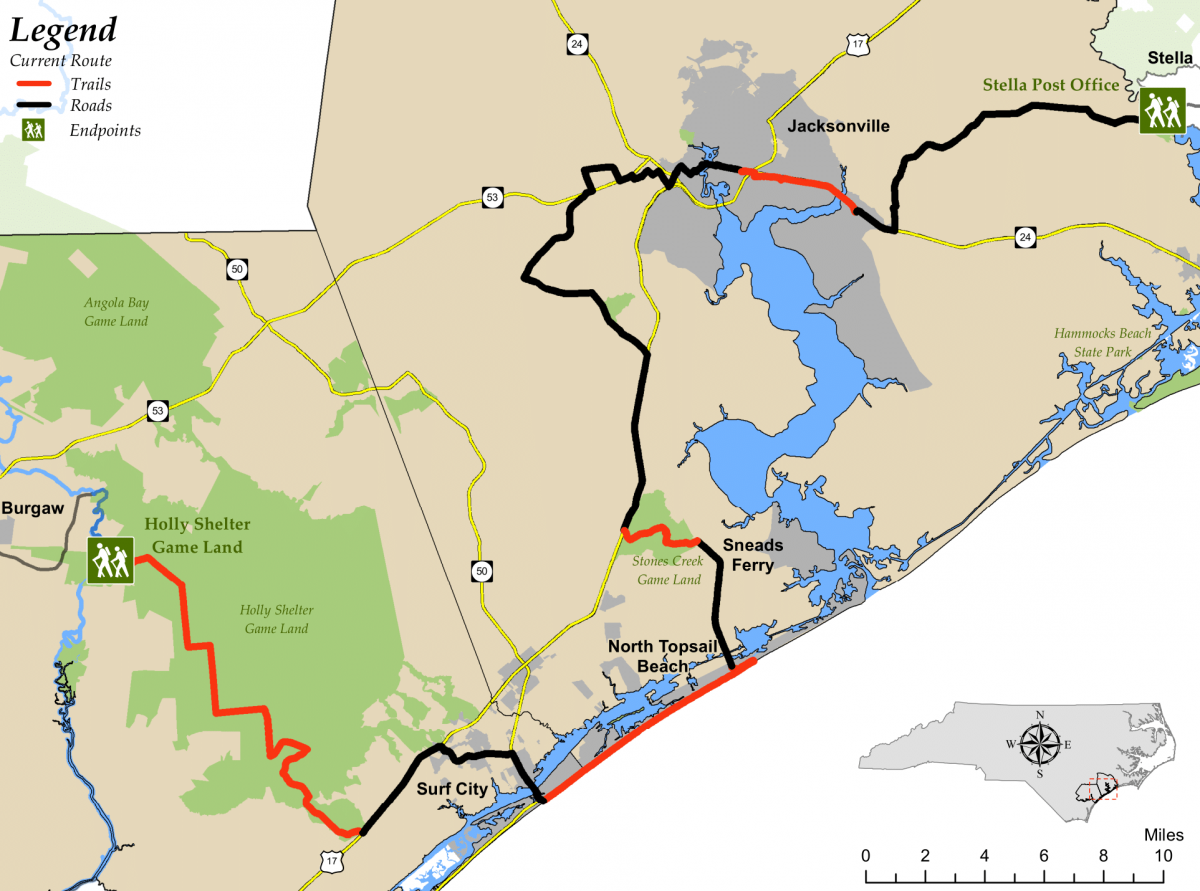 Distance:  90.6 miles (3.5 miles of trail, 9.1 miles of beach, 5.7 miles of multi-use path or greenway, 19 miles of forest roads, and 53.3 miles of paved road.
Difficulty:  Easy to Moderate
Trail Communities: Surf City, North Topsail Beach, Sneads Ferry, Jacksonville
This 90-mile segment takes MST travelers through the Onslow Bight, formed where the coast makes a shallow bend or "bight" between Cape Lookout and Cape Fear. With its barrier islands, marshes, riverine wetlands, pocosins, and longleaf pine savannas, the Onslow Bight is considered one of the most ecologically diverse areas in the United States. These natural communities provide habitat for rare plants and animals, including several species that are found nowhere else in the world. The pocosins and longleaf pine forests are critical habitat for nesting and foraging Red-cockaded Woodpeckers, while the delicate barrier islands are essential habitat for sea turtle and water bird nesting.
Camp Lejeune Marine Corps Base and the city of Jacksonville lie in the center of this segment. Much of the MST route from Sneads Ferry through Jacksonville follows roads that skirt the massive base. Hikers will see plenty of signs of the military presence—from people in uniform, to military vehicles, to signs along the highway.
The area is one of the primary conservation priorities for groups like The Nature Conservancy, North Carolina Coastal Land Trust, North Carolina Wildlife Resources Commission (NCWRC), and many other government and nonprofit agencies. Camp Lejeune provides major support for these efforts by funding conservation and by managing land on the base to enhance native habitat.
Highlights Include
Nineteen miles of forest road through the 64,743-acre Holly Shelter Game Land, where hikers will see vast expanses of pocosin recovering from a major peat fire in 2011, as well as savannas of lush grasses and native plants flourishing under towering longleaf pines
The Karen Beasley Sea Turtle Rescue and Rehabilitation Center, ½ mile off the MST in Surf City
An eight-mile beach walk on Topsail Island that passes:

Two of seven concrete observation towers built by the US Navy in World War II for Operation Bumblebee, a secret guided-missile testing program that operated on Topsail Island from 1946-8
The Ocean City community in North Topsail Beach, founded in 1949 as one of the first family-oriented beaches for African Americans who at the time could not usually purchase beachfront property

The "Discover Onslow" exhibit at the new Onslow County Environmental Education Center on NC 210 just south of Old Folkstone Rd., which is a great way to learn about the ecology, flora, and fauna of the Onslow Bight
Stones Creek Game Land, nestled in Camp Lejeune, which provides a scenic walk past lakes and pine woods
Jacksonville's Lejeune Greenway, which takes hikers through the heart of downtown and over Northeast Creek to Camp Lejeune's Holcomb Gate
The Lejeune Memorial Gardens, with moving tributes to our nation's servicemen and women.
Crossing the White Oak River to enter the little community of Stella on the outskirts of the Croatan National Forest
Get the full Mountains to Sea Trail here
View the Hiking Project for Trail Photos and Details here